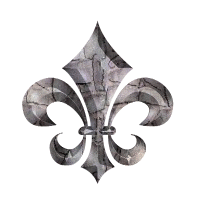 Gaelic Girl's Gifs Supports New Orleans & The Hurricane Katrina Relief Effort
Click Here to get your own Fleur-de-lis

Welcome to Gaelic Girl's Gifs!
This is my collection of clipart and graphics that I have collected from the WWW. To the best of my

knowledge, all the graphics contained in this site are public domain and free to use on personal, non-commercial websites. If you find something on this site that belongs to someone else, feel free to e-mail me and tell me about it by clicking the "E-Mail Me" button on the left. I'll be sure to remove the graphic or give credit for it ASAP. PLEASE DO NOT "HOTLINK" TO THE IMAGES!!! This is called bandwidth stealing, and it is illegal. Please download the graphics to your own computer, server, or website.

UPDATE! It's been a long time since I updated this site. It has a lot to do with all my other projects. In September of 2003, I finished writing a book called Night Cries, which will be published by Alchemagery Libellus in September 2005. I also started my own business, Crescent Moon Design Studio, which is a web design, search engine optimization, and Internet Marketing company. My band, Make Me Shiver, is currently in the studio recording our first album, entitled "Too Much To Dream," and we continue to gig around the area. And, even though school is out for the summer, I am still attending college, working toward my Bachelor's degree in Interdisciplinary Studies in Communication and English. So, you know, I'm pretty busy, but, since this site was the very first site I ever had, it's still important to me, and an update (of the look of the site) was WAY overdue. So, take a look around, visit my other sites if you like, and look at the images I have collected and created over the years. I will be adding new stuff as I can, but I'm not making any promises on the timeline. Also, the GaelicGifs mailing list is now defunct, so all the updates about this site will now be listed here. Finally, if there is any interest in it, I may add a message board. Let me know if this is something that you'd be interested in seeing at this site.
Thanks for visiting!
Charity
(Gaelic Girl)

Gaelic Shadows: The Official Homepage of Author and Musician
C. Anne Morgan. The site where you'll find excerpts of all my writings,
a Gaelic word list, a Norman French dictionary, and much more!

Visit Joe Furey's place! O'Furey's Castle of Freebies has lots of free stuff for you to enjoy, and he's a supporter of this site!